Different Ways To Rock A Crochet Bob
Who says your hair has to be long to look fabulous? For over 100 years, women have embraced bob hairstyles – that is, hairstyles that fall just below the ears. They are practical, low maintenance, and look so stylish.However, if we have to depend on our natural hair to achieve a bob, our styling options would be too limited. Luckily, crochet braids have come to the rescue! Once you find the perfect brand of crochet hair, you may need to do some trimming to get your desired look. But if you're unsure of whichtexture to buy, these crochet bob hairstyles should give you some inspiration.
1. Coiled inverted bob
How about trying this curly inverted crochet bob? These big, bouncy coils add the perfect volume for this natural look. After all, big hair is in! This style is perfect for any occasion, and the angled cuts would frame any face shape nicely.  More importantly, it is low maintenance style that would allow you to enjoy that extra five minutes of sleep in the morning.
2. Ombre loose curls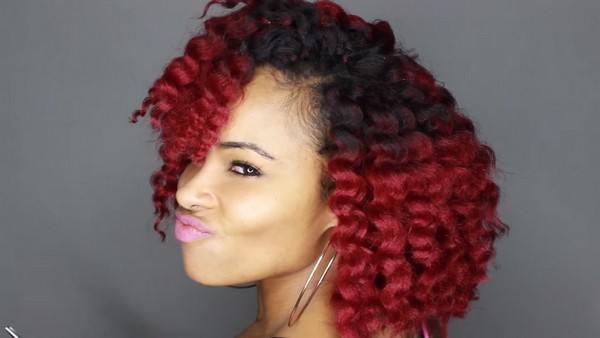 Who would have thought that a crochet bob can look this good? Thisombre black and burgundytwist-outis just right! To get this look, you'll need to purchase pre-twisted crochet hair and unravel them. After you've installed enough hair, grab a scissors and start snipping until you get to the perfect length. These tresses are light and head-bopping friendly – perfect for a night out!
3. Black/Burgundy Havana Twist Lob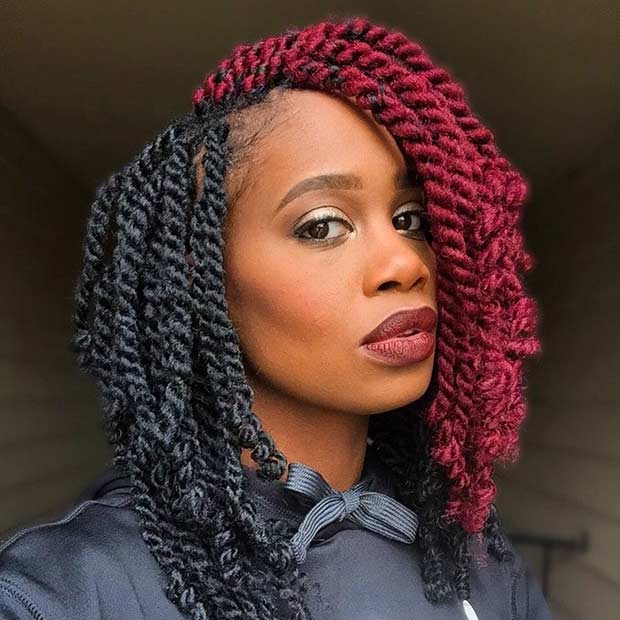 While this long bob (lob) isn't quite what you would have expected in this article, you can layer your Havana twists in gradient lengthsthat work for you.The burgundy bangs and knotted ends gives this style that extra oomph that it needs to stand out. Throw on some matching lipstick and you are all set.
4. Kinky bob
You don't need to trim your ends in fancy angles to make your bob look good. These kinky crochet braids work just as well in a bob style.  This is quite a different look that you can try out when you're ready to step out of the norm.
5. Curly 'Mob'
So we've established that a bob is hair that stays above your neck, a lob is a long bob that brushes your shoulders, and now we have a mob! Mobs fall somewhere in the middle of a bob and a lob. Get it? A middle bob! You can decide how big you want this style to be, but there is no question that these spiral curls look lovely like this.
6. Spirals
This long bob is a similar curl pattern to the previous style shown, but it is not as big. The beauty of wearing crochet braids is that you can achieve so many looks with the same hair.  Of course the look of your bob depends on how you cut your hair, so bear that in mind when trying out crochet bobs.
Kennita is a Caribbean girl who hails from the beautiful island of St. Lucia. When she's not reading or writing, she loves hanging out with her friends, shopping and of course, looking up the latest hair trends.